In summer squash, white colour fruit (W) is dominant over yellow colour (w) and disc-shaped phenotype (D) is dominant over sphere-shaped phenotype (d). Determine the genotype of the parents if the cross between white, sphere crossed with white, sphere gives ¾ white, sphere and ¼ yellow, sphere.
WWDD x wwdd
Wwdd x Wwdd
WwDd x wwdd
wwDD x WWdd
How do you determine the genotype of parents from offspring in a dihybrid cross?
The parents would both have to be heterozygous for white (Ww) and homozygous recessive for sphere (dd) – that is, the original cross would be Wwdd x Wwdd (option 2).
The best way to answer questions about the genotypes and phenotypes resulting from genetic crosses is using a Punnett square. This is only possible when we're talking about two separate, unlinked traits that follow Mendelian inheritance.
The easiest thing in questions where you're looking for the parents' genotypes from looking at the offspring is first to separate out the two traits.
First, let's look at the colour of the fruit. White (W) is dominant and yellow (w) is recessive. The offspring are phenotypically ¾ dominant (white, from either WW or Ww genotype) and ¼ recessive (yellow, only from ww). This occurs when both parents are heterozygous (Ww).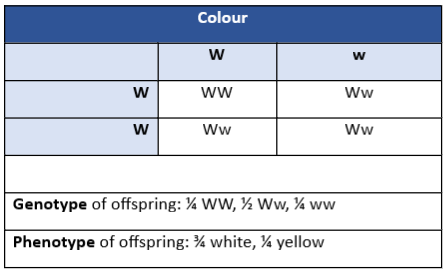 Next let's look at the shape. Disc-shaped (D) is dominant over sphere (d). Since all the offspring are sphere-shaped, both the parents must be homozygous for the recessive sphere-shaped allele (dd).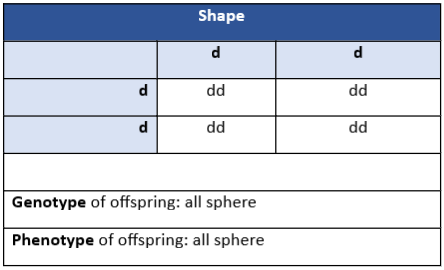 Putting these together, we get that both the parents should be heterozygous for colour (Ww) and homozygous recessive for shape (dd) – so the cross was Wwdd x Wwdd.
Some people think memorizing all possible crosses is easiest. While you should be familiar with the results of the most common potential crosses, just memorizing all potential combinations has a few drawbacks. For one, this is rote memorization, which seems quick at first, but you have to keep on revising this every few weeks or you'll just forget it all. In contrast, understanding the concept of a Punnett square might take a little longer in the beginning (not much!), once you do get it, you're pretty much set for life – you won't forget it.
Another reason to understand concepts like this instead of memorizing is that section C of the NET exam often has more complex uses of these same concepts – so studying them properly will help with both sections!