Match the following vitamins with the corresponding pathological conditions arising from their deficiencies.
(i) – c; (ii) – a; (iii) – d; (iv) – b
(i) – c; (ii) – b; (iii) – d; (iv) – a
(i) – c; (ii) – a; (iii) – b; (iv) – d
(i) – d; (ii) – a; (iii) – b; (iv) – d
What are some diseases caused by vitamin deficiency?
Option 1 is the correct match.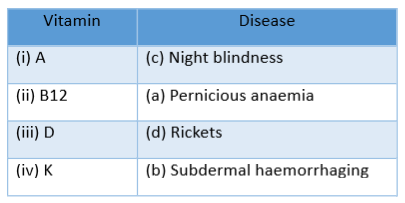 Vitamin A is a fat-soluble vitamin which is essential for vision. It is used by the retina for low-light vision, so its deficiency causes night blindness.
Vitamin B12, like other B vitamins, is essential for the proper function of the metabolism. B12 is also necessary for the maturation of red blood cells in the bone marrow; its deficiency causes pernicious anaemia.
Vitamin D is a fat-soluble vitamin. Because it is responsible for the proper absorption of minerals such as calcium and magnesium in the intestines, its deficiency causes rickets.
Vitamin K is another fat-soluble vitamin. One of its functions is post-translational modification of proteins, including those need for blood clotting. Its deficiency can an increase in blood clotting time, causing subdermal haemorrhaging.