How to study for the NET: Two tips for revision
I'm back with more of my Top Ten Tips on how to study for the CSIR NET Life Science exam! This time, I'll share two methods I use for effective revision and practice.
These tips are less for the initial acquisition of knowledge, and more for being able to retain that information, but you should start using these tips from the beginning stages of your preparation for the NET exam, since these skills build up as you use them.
The first tip deals with how frequently to revise material you've studied. Research shows that we tend to forget information in certain increments of time, as shown in the "Forgetting Curve" shown below. In order to reset this curve and regain the learned material, to cement the information in your long-term memory, you should study the information at certain intervals.
If you review material just as you've started to forget it, you not only consolidate the information, but also slow down the subsequent forgetting.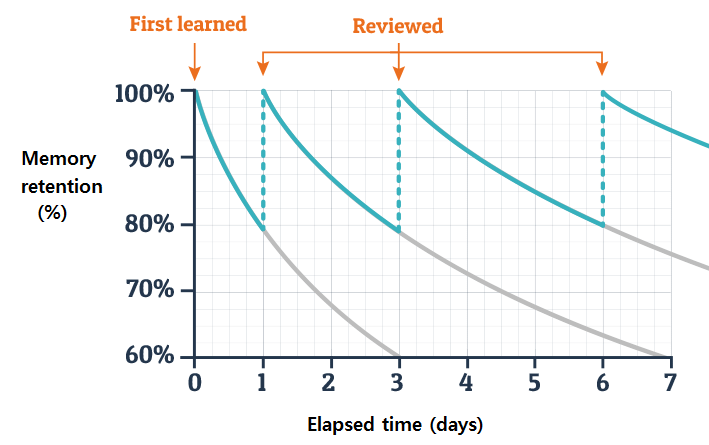 There are a number of tools you can use for this. Flashcards, which I discussed in the previous Study Tips post, are excellent for this. If learning digitally suits you, apps like Anki and Quizlet are great for online flashcards. These apps have a spaced repetition system built into the coding, so they test you on the information that, according to the curve of forgetting, you're about to forget.
2. Use Practice Questions
Like the previous method, this is another way of testing your memory retrieval. In some ways it seems the most obvious – of course you need to practice questions! But I find that in practice, most people tend to underestimate its importance.
Think back to how you've studied in the past. Do you generally spend eight to ninety percent of your time reading, either from textbooks or notes? While reading the material is a necessary first step, it's not going to do much for you don't retain the information!
I suggest initially aiming for a 70-30 split, where seventy percent of your time is spent reading and taking notes – basically, in understanding the information – and thirty percent is spent in testing what you've just learned.
If you're studying from a textbook, the questions at the end of the section are perfect for this. Most people skip these, thinking they'll get back to them, but the questions are there for a reason! Testing once immediately after you've learned the information helps your brain process what's important and what isn't.
Now, is a 70-30 split always going to work? Actually, I think that as you cover more material (and also as the exam gets closer) you should focus even more on testing yourself. This is partly because you'll also have more material to cover. Remember spaced repetition? Yep, you need to keep revising the stuff you've learned in chapter 2, for instance, even while you're studying chapter 11.
This might sound chaotic, but actually, it helps to change the pace of your studying. We've all had days when we're just bored to death of the same-old-same-old process of reading from the textbook. On those days when you just don't want to open your textbook at all, you can go through practice questions from previous chapters. This gives you a change, and also boosts your confidence when you realize, yeah, my hard work really is paying off. (And if you've forgotten more than you expected, then so much better to realize it now, than closer to the exam!)
In the time leading up to the exam, increase your testing until, in the month immediately before the exam, your split is closer to 30-70: spending thirty percent of your time in reading over books, notes, or study guides, and seventy percent in testing.