In the context of DNA methylation, which one of the following statements is FALSE?
Generally, methylation occurs at the 3rd carbon position of cytosine and converts it to a 3-methylcytosine
Maintenance methyltransferase acts constitutively on hemimethylated sites and converts them to fully methylated sites
During mammalian gametogenesis, the genomic methylation patterns are erased in primordial germ cells
Replication converts a fully methylated site to hemimethylated site.
What are the characteristics and processes of DNA methylation?
DNA methylation occurs at the 5th carbon position of cytosine, NOT 3rd (option 1).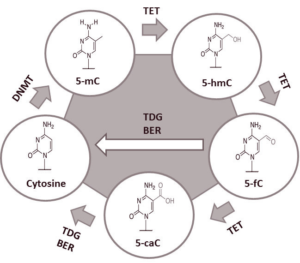 DNA methylation is the process by which methyl groups are attached to a DNA molecule. This happens on two bases: cytosine and adenine. Cytosine is the most-commonly modified base; adenine methylation is rare.
Cytosine is methylated on its fifth carbon position.
(This methylated cytosine is very similar in structure to thymine – in fact, if it's deaminated, you get thymine – one of the sources of spontaneous mutations in genes.)
In mammals, this methylation is found only at cytosine-guanosine dinucleotides (CpG islands). One of the roles of CpG islands is transcriptional repression: genes with many methylated CpG islands in their promoters are not transcriptionally active. Another role is to inhibit transposon activity.
In mammals, DNA methylation exists in all cells, but it is erased between generations in two steps: once during gametogenesis, and then at the early embryo stage. It makes sense if you think about it – if methylation represses genes, we need to remove methylation to activate all the genes required to make a full individual!
Changes in methylation can also happen in or cause diseases, like cancer and heart disease, but they also happen throughout our lives in normal, physiological contexts. An example would be how methylation in the hippocampus of rat brains plays a key role in fear conditioning.
The examples above are all of new methylation of previously-unmethylated cytosines. This is de novo (new) methylation, and is carried out by two de novo methyltransferases, DNMT3a and DNMT3b.
Apart from this, we also need to maintain the methylation pattern we previously established. Every time a cell replicates, the DNA does as well. For each methylated parent strand, we now also have a non-methylated daughter strand. This means our freshly-replicated DNA is hemi-methylated (half-methylated). Our previous methylation is then preserved when the new strands of DNA are methylated according to the previous pattern by DNA methyltransferase (DNMT). This is also known as the maintenance methyltransferase.